(By Zak Vescera – Saskatoon Star-Phoenix – June 5, 2022) – COVID-19 has dealt a painful setback to Saskatchewan First Nations in a years-long battle with HIV.
Before the pandemic, Dr. Ibrahim Khan said First Nations in the province were recognized internationally for expanding testing, prevention and treatment programs to combat sky-high rates of HIV — more than twice the provincial average, which itself is the highest in the country.
"We had achieved remarkable success with HIV in Saskatchewan before the pandemic," said Khan, the medical health officer for Indigenous Services Canada in the province.
But he and a First Nations health official say the pandemic disrupted services, diverted resources and cut people off from their social supports. Renewed testing efforts are just now revealing the extent of HIV's spread.
Saskatchewan First Nations reserves had an HIV transmission rate of 45.4 new cases per 100,000 people in 2021, Khan said. That's nearly 10 times the national rate of 4.6 in 2020, the latest year for which data are available. And it's close to the peak infection rate of 45.6 recorded on those First Nations reserves in 2016.
"We are seeing quite a rapid surge, but it's also linked to some of the testing clinics that we offered in some locations," Khan said.
"We see that. But it also tells us that if you look for it, you will find it."
For Darlene Bryant, it feels a bit like déjà vu. Bryant is the health director for the Cote First Nation near Kamsack. In the mid-2010s the region saw a sharp rise in HIV infections, linked mostly to intravenous drug use — the primary risk factor for HIV in Saskatchewan. They responded by rapidly expanding access to clean needles and other harm reduction supplies; hiring a case worker; establishing a mental health and addictions centre and, more recently, opening a detoxification centre, she said.
"We were all doing it on a volunteer basis. We didn't have many supplies. We had a $3,000 budget at that time. But it sure grew."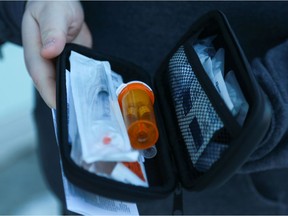 Bryant said she believes the region's challenges with mental health and substance use only got worse during the pandemic. Services never shut down, but they had to be limited.
"It's still a battle," Bryant said. "It seems like with COVID, we really had an increase our addictions, so everything we had done from 2016 to say 2020 — we've kind of had to take a few steps back."
Saskatchewan has had the highest rate of HIV transmission in the country for years. In 2021, it reported a record 237 new infections. Doctors and advocates have called for renewed efforts to contain the virus, including expanded testing, funding for harm reduction measures including supervised drug consumption sites and a focus on the mental health and substance use issues that in many cases drive the spread of HIV.
Margaret Kisikaw Piyesis said the high rates of HIV in some First Nations amounts to a pandemic, but governments of all stripes haven't put in the long-term funding Indigenous communities need to test for and treat the virus.
Modern HIV medications mean people with the virus can live long, healthy lives with minimal medications — but that depends on getting diagnosed and having access to that treatment. Piyesis believes many Indigenous people have gone undiagnosed, in part because services are not successfully connecting with them.
"What we're seeing at the community-based level is that people who are most at risk for HIV are not being diagnosed," said Piyesis, the CEO of the Communities Alliance and Networks (formerly the Canadian Aboriginal AIDS Network).
"Saskatchewan has to step up to address what's going on in this province, and we need Indigenous people to lead that vision," she said.
0
0
Northern Territory police minister Kate Worden, who is also the minister for domestic violence, said it had been a 'heartbreaking week' after two DV incidents. Photograph: Aaron Bunch/AAP